SterJo Wireless Passwords v.2.0
Having your wifi password disappear somewhere in your memory sounds like a disturbing and serious thing. But actually it's not a big problem. If it happened to you and you wonder how to find wifi password, which is lost of forgotten, download SterJo Wireless Passwords. It cares about your wireless security. The software is simple and you can quickly retrieve your old wifi password.
Did You Forget Wifi Password?
For the sake of wireless security, many devices that are using wireless network must be protected by a password. Computers can be a target for those who want to hack wifi password. To prevent any damage, we know that it's advisable to have a strong password, which has to contain not only letters, but also numbers and sometimes even other characters. Not to mention capital letters. So it's not a surprise if we forget our wifi password. It's not a shame and it happens often. By the way, who will remember all that information?
So, if the wifi password is lost, we will need wifi password cracker to retrieve it.
Solution For Lost Wifi Passwords
Your wireless security is important. SterJo Wireless Passwords is a tool, a software actually, that will help you recover your lost wifi password. This application is efficient wifi password finder that will "work for free". By using this wifi password cracker, you will not have to reset anything or bother how to make a new wifi password. Solution is not only free but also very simple.
SterJo Wireless Passwords works best as wifi password cracker in cases when you wonder how to return wifi password for multiple wireless connections.
How is SterJo Wireless Passwords working?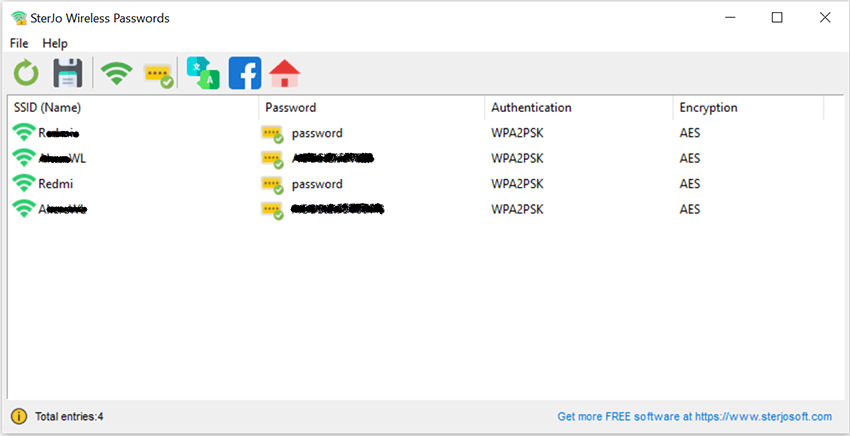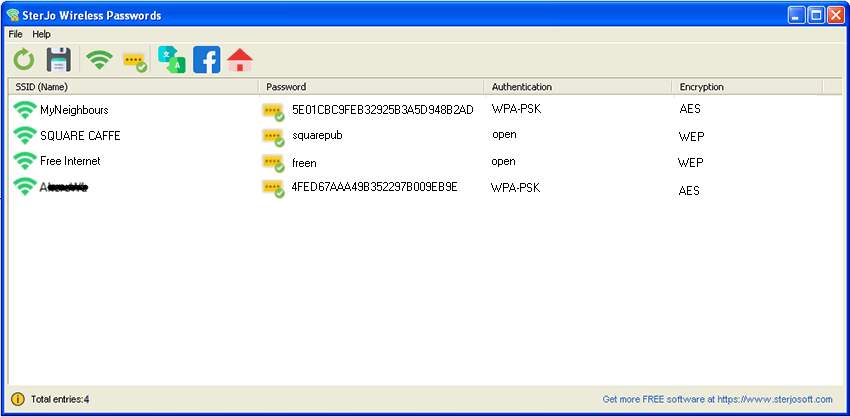 After you run this application, it will instantly scan your wireless network and immediately help your wireless security. It will display the information about wireless networks you connected to before. This wifi password finder will also display the info about the network currently being used. For each network, the interface will show you useful information such as Service Set Identifier, Password, Authentication type and Encryption method. In the context menu, you will be able to copy the password selected. How to find forgotten wifi password will become a past.
In a second, you can save all the information you will get. You can save it in a text file. A Save button allows you to store the file where you want. This application is simple to understand.
This wifi password finder makes you feel sure about your future actions on the internet. SterJo Wireless Passwords gives a solution now but also gives you a safe feeling for tomorrow too. Your wireless security is guaranteed because if it happens again that you forget the password, solution is one click away.
Notice for Windows XP users: If your network has WPA encryption then the recovered password would be in 64 HEX digits BUT you can use these digits to connect to internet same as a password. This is not a bug. Windows XP can't convert WPA back the original password. Windows Vista, Windows 7 and Windows 8 don't have this issue. WEP passwords in Windows XP are recovered without a problem.
Download
Portable
About Downloading the SterJo Wireless Passwords
This wifi password finder works on both 32-bit and 64-bit editions of Windows XP, Windows Vista, Windows 7, Windows 8 and Windows 10. The SterJo Wireless Passwords program is user-friendly. Download it for free!
Version History
Version 2.0: UI changes and removed .OCX dependencies.
Version 1.7: Small bug fixed.
Version 1.6: Enhanced Windows 10 compatibility.
Version 1.5: Added multi-language support.
Version 1.4: Minor changes.
Version 1.3: Added export to HTML (.html) and KeePass file (.csv).
Version 1.2: Minor bug fixed.
Version 1.1: Bug fixes.
Version 1.0: First public release.