Frequently Asked Questions
Q: Are the products compatible with Windows 98/NT/2000/XP/2003/Vista/7/8/10?
A: The products are compatible with Windows XP/2003/Vista/7/8/10. Windows 98/NT/2000 are not supported.
Q: What are the advantages of using these products?
A: The products are small, light on resources and very useful for any user with or without computer knowledge. Mostly they are created for security reasons or to give you more details you need to know about your computer. I try to develop a products that can be used on daily bases and as simple as possible.
Q: I have used the products and I don't need them anymore. How to uninstall them?
A: All products have installer included with supported uninstall option. If you have used the portable versions then please delete all files and folders from your computer. The products don't use registry savings so they won't leave any traces behind.
Q: Can we use the products in our company?
A: Yes. You can use all my products for personal or commercial usage without any additional license.
Q: Can we put the products on our CD-ROM or distribute them with our magazine?
A: Yes, all products may be freely distributed with any magazine and can be put on CD-ROM.
Q: Why does it always says "Unknown Publisher" when I run your products?
A: The reason for this is because my products don't have digital certificate. Obtaining such certificate could cost several hundred dollars annually. Making a small donation will help me to digitally sign all my products and it would be much appreciated.
A: All my freeware are digitally signed since March 2013. If you see something like "Unknown Publisher" after this period, then this means someone else has intentionally modified my software and might have put a malicious code like virus or Trojan. In this case please do NOT run the executable file especially if you have downloaded it from unknown website or torrent.
I am giving you an example below when you should allow access or not!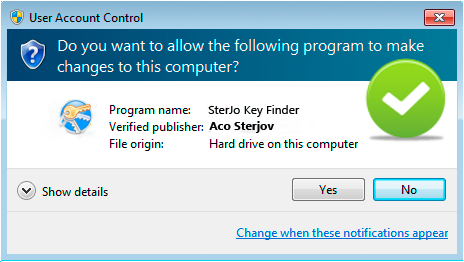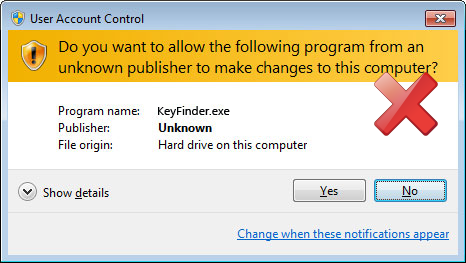 Q: I can't donate but I really like your products. How can I give some contribution?
A: Thank you for using my products. If you want to contribute in some way please post some good words on some software related forums or social networks. It would mean a lot to me.
Q: The antivirus software on my computer reports that some of the your products are infected with a virus or trojan. Why?
A: All products on my website are clean and don't contain any virus or Trojan. If you antivirus software detects them as suspicions then this is false alert. Please make sure you have downloaded my products from my website or any trusted sources but NOT from a torrent or any unknown website.
Also, there might be occasions where the installer will try to download additional files (usually some ads just to cover my expenses). I would like to say that this file is optional and not a virus, but could be easily ignored by unchecking or clicking "Decline" button when the ads are displayed. The reason why I might have included this with some of my software is the lack of donations. To be honest, I just have had several donations until now, even my software has been downloaded several hundred thousand times.
So I hope all of you will understand why I've done some things and approve it because either way I have to stop developing this project.
Q: I get "run-time error" when I run some products. What should I do?
A: Make sure you have an admin privileges to your computer or you haven't deleted some of the additional files in the installation folder. Also try to execute the software with right mouse click and select "Run as administrator". If the problem persists please try to download the product again from my website.
Q: Can the products be translated in different languages?
A: Yes. Some products support more languages. Open the Language section and choose the desired language or you can manually translate them into your language but opening "Translate.lng" file from the Language folder.
Q: How do I report a bug?
A: You can send an email with a description of the bug.