SterJo Startup Patrol v.1.6
How many times did you ask yourself why is your computer slow? Waiting too long for Windows registry can be frustrating sometimes, especially if you're in a rush and need to quickly do something on your slow PC. If it happens too often, there is an easy solution of speeding up your PC and helping it work faster then ever! The solution for this annoying problem is SterJo Startup Patrol, free Startup management tool for Windows which can really speed up your PC.
Why is my computer slow?
The reason why your computer is slow is probably in software you've installed or some registry errors. Those software are maybe causing delay and slowing your PC. If you have too many applications which are set to automatically launch at startup, the longer will be your Windows registry. And the longer you will have to wait for startup programs to start working. Download the SterJo Startup Patrol to help your computer work faster.
How is SterJo Startup Patrol working?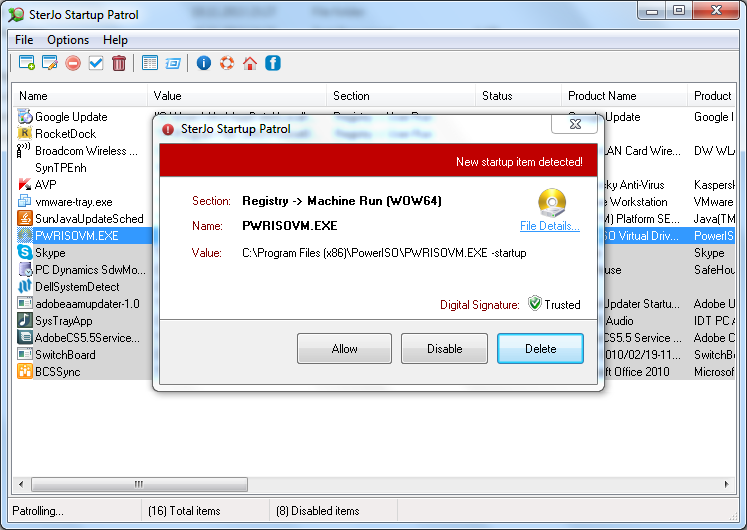 SterJo Startup Patrol helps you to view and manage a list of startup programs. You can choose only important programs and not the ones which are making your computer slow. When you first start the SterJo Startup Patrol, you will be asked to Allow, Disable or Delete an item that is starting after the Windows registry. If you don't want to answer right away, just click on the Allow or Disable button and you can change the state of that item later. If you choose to click on the Delete button, the item will be deleted from your list. Maybe that option is necessary if it will speed up your PC. If you change your mind and want to start deleted items with Windows again, you can later add deleted items manually.
SterJo Startup Patrol gives you ability to create new items that will start with the Windows. If you're installing new programs, this tool will monitor these new startup registries and a notification will pop up to inform you about this new activity. You will have the option to choose which applications you want and which you don't want. Only the most important startup programs can be booted up after the Windows registry. When adding an item, you will have to specify a Name, Value, Section and any optional Parameters for the new application.
After disabling or deleting the unwanted program, you will be able to speed up your PC because there will not by any unnecessary programs which will run automatically and slow the PC. Only the significant Windows applications will begin working after the Windows registry and you will not have to worry about slow computer any more.
Download
Portable
About Downloading the SterJo Startup Patrol
SterJo Startup Patrol works on both 32-bit and 64-bit versions of Windows XP, Windows Vista, Windows 7, Windows 8 and Windows 10. You need to have 512MB of RAM memory and minimum 3MB of hard drive space. To install the SterJo Startup Patrol, download a very small executable, run it, then click through the setup wizard. Slow PC will become a past.
After downloading the tool, few simple actions will definitely speed up your PC. SterJo Startup Patrol is simply improving the performance of your Windows startup. And, yes, download is free!
SterJo Startup Patrol has been translated into several other languages. You can download your language and extract it to "Language" subfolder where you have previously installed SterJo Startup Patrol.
Version History
Version 1.6: Minor changes and now playing alert sound for new entries.
Version 1.5: Small bug fixed.
Version 1.4: Perform a Google Search on suspicious files with right mouse click.
Version 1.3: Checks if new entry file is digitally signed.
Version 1.2: Minor UI changes.
Version 1.1: Bug fixes.
Version 1.0: First public release.