SterJo NetStalker v.1.3
Having confidential information on your computer requires better care for your PC security. Some program on your computer may send that type information to someone, which you definitely don't want. So it's better to prevent it with a network monitoring software. If you're concerned about your network security, and want to be sure you have the proper PC protection, there is a special program. A solution for your computer protection is called SterJo NetStalker. It is network monitoring software - not a firewall, but makes the same thing for you and works on similar priciples as a firewall.
Free Computer Protection
SterJo NetStalker is security software made specially for your PC protection. It will detect all connections to your computer, both authorized and unauthorized, and alert you for every new connection.
It is kind of a free firewall - not a classic firewall as we know it, but rather a monitoring software, which will display details about all connections on your PC. Analysing all open ports on your system will be done in less then a second. SterJo NetStalker will also analyse all running processes on your computer. That's especially useful when processes look suspicious, so this free computer protection software will work like a firewall software and inform you when your PC security is threatened.
How is SterJo NetStalker working?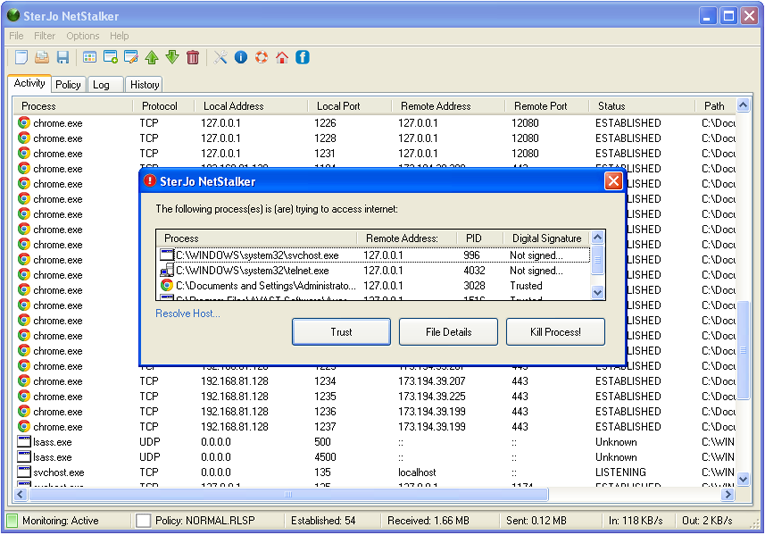 This simple application works as a firewall software. It will protect your PC from any unwanted internet activity. It will watch on TCP and UDP connections which are currently enabled by services and applications you have running on your PC. Being a network traffic monitor it means that it will monitor your network traffic (for free). You will be able to block any unwanted process which is the result of internet access.
After launching the application, it will automatically scan all services and processes currently running on your PC. They will be listed under the Activity tab and you will also be able too see info related to local and remote IP addresses, and port, as well as the current status of the service. A status bar will inform you about all these connection's activity. If this internet traffic monitor notices any suspicious process that could be harmful for your PC security, a window will pop up so you will be able to quit the process and destroy it, or to allow the process to access the internet. This network monitoring software is smart enough to block those processes that don't hold with your network rules you've defined.
You can choose between Accept and reject action. To define the rules, go to the Policy tab. To add new rules, use the "Add a New Rule" option. You will get some pre-configured policies in order to help you get started. They can also be modified later. The Security menu is offering you to change modes of the application, so you can allow, filter or block the traffic. You may also pause the traffic. SterJo NetStalker is that simple.
One of the possibilities this free network monitoring software offers you is to track all the internet activity and be saved in files. There is the Log tab that saves all the logs and the History tab that saves all the actions you make.
Download
Portable
About Downloading the SterJo NetStalker
Downloading this free internet traffic monitor is very simple and it will contribute to your PC protection immediately.
SterJo NetStalker works on both 32-bit and 64-bit editions of Windows XP, Windows Vista, Windows 7, Windows 8 and Windows 10. It is portable, so you can put it on USB drive.
Download now SterJo NetStalker for free.
Language files: